Antarctica Cruise Packing List: What (& What Not) To Bring
July 13th, 2023
•
30 min read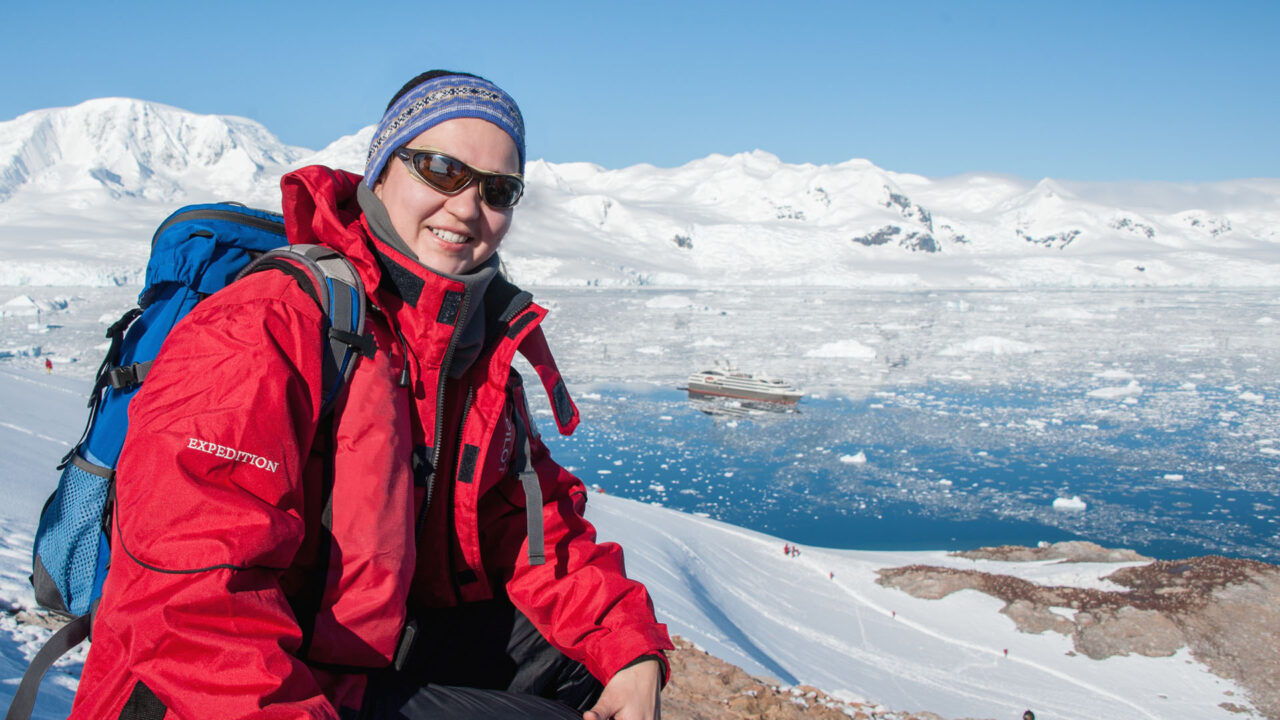 Expeditions to extreme climates and remote destinations require careful planning, none more so than Antarctica, and knowing what to pack for a trip to the End of the World is an essential part of your preparations. It might not be possible to buy something suitable after you leave home, and not having the right gear can ruin your trip—or be downright dangerous.
Being adequately prepared and ensuring you have appropriate kit can make all the difference. As John King Davis, captain of the Aurora and second in command to the famous Australian geologist and Antarctic explorer Douglas Mawson on the Australasian Antarctic Expedition of 1911-14 once warned:
To the explorer who has not the money to provide good equipment of every kind, my advice is "Keep out of the Antarctic!"
Fortunately for the modern traveler, good quality, affordable expedition gear is readily available these days, and many technological advances have been made so that you no longer need to take the sleds, dogs, and ponies to carry vast amounts of supplies to the southernmost continent.
In fact, it's a common misconception that you'll need to pack a ton of travel gear for an Antarctica cruise and spend a fortune buying everything you'll need. Instead you'll find you can bring far less than you'd expect, and between the clothing and equipment provided and what you already own, it shouldn't cost you a lot to fill in the gaps so that you're fully prepared for your trip.
In this guide, compiled with the hindsight and help of the intrepid and inadequately prepared polar explorers before you—those who've learnt important lessons the hard way—we'll share a detailed Antarctica cruise packing list to ensure you not only stay warm and dry, but also have everything you need to make the most of your Antarctic adventure, plus some extra packing tips.
But before you open that suitcase and start rummaging through your drawers, there are some important considerations that will affect what to (and what you can) pack for your Antarctica cruise. How much luggage you're allowed, the dress code and laundry facilities aboard your chosen vessel, what equipment is already provided for you in Antarctica, what gear you already own, and whether you will be going anywhere other than the White Continent on your trip are all vital to ponder before you begin packing. Let's take a look at these in more detail:
Luggage Restrictions
If you're booked onto a charter flight to/from Punta Arenas as part of a fly-cruise expedition, don't forget when packing that the total weight of baggage allowed is only 20kg (44 lb)—15kg (33 lb) checked luggage + 5kg (11 lb) hand luggage. This is considerably less than the 33+ kg (73+ lb) total baggage allowance on some Chilean domestic flights—23kg (51 lb) checked luggage + 10kg (22 lb) cabin bag + handbag.
It's also important to note that excess baggage allowance, whilst purchasable on domestic flights, cannot be bought for Antarctic flights because of the stringent weight restrictions in place for operational safety. For this reason, you must make sure your luggage during the Antarctic portion of your trip adheres the outlined baggage allowance above.
If you end up with additional luggage, don't worry too much as it can be easily stored in Punta Arenas, usually at no extra cost, until your return from Antarctica. Besides, whilst this slightly lower luggage allowance may seem inconvenient, many Antarctic travelers discover after they've traveled that a 15kg (33 lb) suitcase is sufficient for their needs anyway and recommend packing lighter than you'd expect.
With regards any international or domestic flights, it's always prudent to consult your airline in advance of flying to inquire about their particular luggage restrictions, as you would normally, and note that some have dimensional restrictions as well as weight limits.
Cruise-wise, vessels have no such baggage restrictions, although for your own comfort you may need to consider whether the vessel has dedicated luggage storage and whether your chosen cabin category is sufficiently spacious, with cupboards or built-in storage to avoid feeling cramped during your cruise.
Whilst we're on the subject of luggage, we're commonly asked which type of luggage to use. We would recommend you use a soft-sided holdall or duffel (ideally with wheels) or soft-shelled suitcase for your checked baggage as they are much lighter and more flexible, making them easier to stow in a cupboard or push under your bed. This is important when considering both the aforementioned weight restrictions, and the tight spaces aboard many ships, although some ships do have dedicated suitcase storage.
For your carry-on luggage, a waterproof backpack (around 25L) is the best option as it will double up as your daybag to take on shore and zodiac excursions to store any additional layers or equipment you need.
Dress Code
The onboard dress code leans very much towards the casual and comfortable, rather than needing to feel that you're on parade. Unless you're on one of the more luxurious ships, you can leave your cocktail dress, blazer and tie at home.
Many of the ships may have a Captain's Farewell on the final evening where you have the opportunity to dress up a little if you wish. For ladies a nice top will suffice, gentlemen may opt for a shirt. This is not required but it may be worth packing one marginally smarter outfit – also useful if you're going out to dinner in South America pre or post-cruise.
People typically dress in a mixture of outdoor/walking attire or whatever they tend to wear at home. Bring what you will be comfortable in, it really isn't a fashion show and the expedition ships are very 'dress down' in approach. The emphasis is on practicality.
When packing it's also worth bearing in mind all of the ships are kept warm inside. However, we recommend keeping a warm outer layer with you at all times so you don't have to go back to your room to get it should you need to race outside to see whales.
Laundry
The laundry service on all ships is typically very efficient, so you don't need to bring an excess of clothing for longer cruises. It can be a little expensive for smaller items (socks, underwear) so sometimes guests choose to wash these out in the bathroom. It's sensible to check with your Antarctica specialist what laundry facilities are available on your chosen vessel before you pack.
All ships have an onboard laundry service with a typical turnaround of 24 hours. Dry cleaning is typically not available. Prices vary but are generally in line with what you might find in an upmarket hotel, given the remote location and operational challenges of running a laundry 600+ miles from the nearest town. Some ships may even let you launder the first few items for free.
Please note that all items are washed at the same temperature and dried before being returned to the cabin, so any extremely delicate fabrics might be better hand-washed in your bathroom basin.
Do You Already Own Equipment to Pack? If Not, Should You Buy or Rent?
Naturally you can't pack what you don't have. So the real question becomes, if you don't already own any equipment, do you need to buy some to pack? Rather than purchasing polar gear at considerable expense and unjustifiable environmental impact which you may not have much use for back home—or indeed if you do own them and just don't want to bring such bulky items with you—you may wish to consider renting from the numerous gear rental stores in Ushuaia instead. (Please note that this is not an option on fly-cruise itineraries involving a charter flight package).
For example, New Headings LLC is used by many operators and can be found at 51 Gobernador Godoy Street. Passengers can inexpensively rent waterproof jackets, pants, backpacks, Gore-Tex mittens, trekking poles, and the like individually, or as a bundle that includes all these items. Quality and unusual size availability, however, can be variable, so if you don't want to take the risk then rental may not be for you and you may wish to make room in your suitcase. Another thing to consider is the highly addictive nature of polar travel, so if you think you might be drawn back to the polar regions (next time to the north, or south again) then it may prove more cost effective to invest in your own gear.
If you do decide to rent gear, passengers are advised to place orders well in advance to ensure availability of adequate sizes. Gear can be ordered for pickup in store, or usually for a small fee can be conveniently delivered to your hotel prior to embarkation. Just be warned that most companies require you to return the gear to the store, so you may need to factor in additional time post-cruise to return it, something to consider if you're in a rush to go straight to the airport.
Some operators, however, may have an agreement with a specific gear rental company allowing you to leave the rented gear on board at disembarkation, and they'll collect and return it for you. Certain operators even require you to use certain rental companies. For example, Silversea or Lindblad use Ship To Shore, which has the additional benefit of equipment being delivered to and collected from the ships directly.
Some upscale ships may have boutiques on board, so it may even be possible to purchase some high-end gear on your cruise.
What Equipment Is Already Provided for You in Antarctica
Fortunately, to save you space and weight in your luggage—and additional expense—most operators do include some items in with the cost of their cruise, either on loan or for you to keep.
Boots (on loan) – Happily, almost all ships operating Antarctic expeditions provide waterproof neoprene boots (Wellington or Muck Boot style) that you will be wearing any time you leave the ship. As the bulkiest item of your polar gear, it's great that you don't need to worry about squeezing these into your suitcase.
You will be required to wear these for safety reasons on all landings, as you will generally be stepping off onto the beach into ankle-deep water. The rubber boots are also far more suited to walking in snow as they are warm and completely waterproof. These boots are also much easier to scrub down, which everyone must do to remove any penguin muck and maintain biosecurity protocols.
The vast majority of ships supply these once you are on board and all you need to do in advance is complete your boot size when you are filling in your passenger forms (if requested). A very small number of ships require you to complete a rental form and pay for the hire of these boots – if necessary, this will be made clear on the information provided in your booking.
When choosing your rubber boots, we suggest you choose one size larger than usual to take into account the thick socks. But don't fret about getting this 100% correct, if you try your boots on straight away and they aren't quite right there's typically a stock of other sizes available.
Parka (to keep) – Warm, waterproof, bulky and undoubtedly the best item of complimentary clothing you could wish for in the cold climes of the Antarctic, a parka is the pre-requisite polar uniform of the modern explorer, hooded and often high necked to keep out the wind, and sometimes with a zip-in fleece inner layer.
As with your boots, when choosing your parka size, we suggest you choose one size larger than normal given the added underlayers you'll be wearing, but again don't fret about getting this 100% correct, if you try your parka on straight away and it isn't quite right there's typically a stock of other sizes available.
Please note that whereas some complimentary expedition parkas are 3-in-1 jackets with a removable inner quilted jacket, others are only outer shells with no inherent warmth, so you may need to bring something suitably warm to wear underneath.
Waterproof over-trousers (on loan) – On rare occasions vessels may provide your complete outer layer by also including a pair of waterproof over-trousers to borrow.
Walking pole (on loan) – If you are booked to travel on the Seaventure or Island Sky, one walking pole will be provided.
Binoculars (on loan)  – Some ships thoughtfully provide these for your use whilst you are on board.
Water bottle (to keep) – Some vessels valiantly do a little bit extra for the environment and provide these for you to use on your voyage and take home with you.
Waterproof backpack (to keep) – Some even provide you with a waterproof backpack to use whilst on excursion and take back to civilization.
If you are not sure if your chosen Antarctica cruise provides boots or binoculars, waterproof over-trousers or backpack, water bottle, walking pole or parka (or how insulated it is if it is provided), please check with us.
Are You Going Anywhere Else Other Than Antarctica on Your Trip?
En route to Antarctica you are likely to require a pre-cruise overnight stay in either Chile or Argentina, and, as such, you're sure to want to pack some adaptors specific to the country you'll be passing through. (Note you may well also need an adaptor to use on your ship too, as most have European style sockets. Check with your specialist which type your chosen vessel has.)
If you a planning to spend some time exploring Patagonia post-cruise (whose weather is almost as changeable as Antarctica's), on the whole your polar gear will stand you in good stead, although you may prefer a lightweight, easily packable waterproof shell jacket (with a warm layer underneath for chilly/windy days) especially if trekking in the nearby national park. You will, however, need a well broken-in pair of hiking boots with ample ankle support, and if such trekking plans are pre-cruise, you may need to pack a parka alternative given you won't have received your complimentary one yet.
If you are heading to warmer climes as part of your journey, then the temperatures you'll experience on your trip could well vary anywhere between -10°C (in Antarctica) and 30°C (in Buenos Aires, for example) at that time of year. As such you'll want to make sure you pack some more traditional summer wear in addition to your extreme cold weather clothing. Talking of Buenos Aires, it's worth noting that residents are very fashion conscious and it is customary to dress for dinner, so you may also wish to pack some glad rags if you are staying overnight in the Argentine capital.
What Not To Bring
Apart from those things already mentioned that may be provided for you—such as boots (almost always), parkas (often), and walking poles (rarely)—or those that you are planning to rent (should logistics allow), what else should you not bother packing? Which ill-suited polar wear or inconvenient equipment should be forsaken? And what other things should you leave behind to save you precious luggage space and unnecessary weight, or shouldn't be brought for the sake of Antarctica itself? Here's a list of items many ill-advised travelers commonly bring to Antarctica which you can leave at home.
Overly fancy clothing – Antarctica cruises are informal, so you can leave the dinner jacket and ball gown at home and keep it casual and comfortable while on board. (That said, if you are on a more upscale ship (and space allows) on a longer itinerary you may wish to bring something nicer to wear to dinner and give you a little variety in your closet.)
Flip flops, sandals or slip-on shoes – Most toes aren't fans of cold and slippery conditions. Leave these at home for this trip (unless you're heading to a beach as part of your trip before or after Antarctica)
Water-resistant clothing – It sounds good, but remember, water-resistant is not the same thing as waterproof when it comes to considering outer layers and accessories. Always go for waterproof clothing unless you want to get soaked to the skin.
Moisture-absorbing cotton – Cotton doesn't wick sweat well which can make it feel cold and clammy after exertion, so avoid wearing moisture-absorbing cotton in Antarctica. Stick instead to wool, high-tech Capilene and synthetics like polyester and fleece, or even silk. The temperatures during the austral summer, when you'll likely be traveling to Antarctica, will typically be between 30 – 40°F (-1 – 5°C), but it's the wind (it's the windiest place on Earth, after all) and the wet (you will get splashed on a Zodiac cruise) that can make it feel much colder. So, you'll want to be prepared with plenty of moisture-wicking, quick-drying performance materials.
Ill-fitting gear – It is important that the clothing you are wearing is comfortable and fits well as you are going to be really putting it to the test as you explore Antarctica. Try to give any new gear a road test at home before heading south. That way, you can discover in advance if anything is a bit tight when you're sitting down, rubs in an awkward spot, or isn't quite as waterproof or windproof as it claimed on the label. It also gives you the ability to see how your layering technique works in practice – for example, do these waterproof trousers fit comfortably on top of my thermals, and can I easily get the ankle opening over the top of a pair of boots?
A DSLR camera if you are not used to one – Naturally if you're comfortable with a "real" camera and lenses, you won't want to leave yours at home, but if you're not, maybe just invest in a new smartphone and leave it at that. Besides, you want to experience Antarctica and take it in with your own two eyes, not waste time trying to remember what f-stop to use to get the perfect shot.
Extra lenses for your smartphone – We've heard from many passengers that these are not worth the associated hassle as the quality of photos isn't much better than without them, with telephoto lenses in particular commonly causing chromatic aberration at the edges of the photos. (If you do want to bring one, then just a wide-angle lens may be a much better option to capture those breathtaking wide-angle shots without causing the kind of distortion regularly seen on the built-in wide-angle shot functionality of most smartphone cameras.)
Pests – it's also crucial that you don't bring along something that might be harmful to Antarctica's pristine environment and delicate ecosystems, i.e. "Don't pack a pest". Human activities in the sub-Antarctic islands have contributed to a large number of introductions of non- native species both intentional (rabbits and reindeer for food) and unintentional (mice, rats, worms and grasses, microbes, algae, fungi, vascular plants, invertebrates, fish, birds and mammals.). Approximately 200 non- native species exist on the islands. These species have come to survive in – and in some cases dominate – terrestrial, freshwater and marine habitats, often causing alterations to the ecosystems through extinction or decreased abundance of native species. To help minimize inadvertantly packing a pest, before you head south examine and thoroughly clean all clothing thoroughly, paying special attention to trouser hems and turn-ups, pockets, seams, Velcro® fasteners, and boot soles for dirt and organic material. The same goes for any bags or equipment you are bringing.
Harmful products – Another consideration along these lines are your toiletries and sunscreen. Make sure they are free from harmful chemicals, microplastics, and nanoparticles, by using Protected Land + Sea certified products.
Single-use plastic bottles – Similarly any single-use plastics should be avoided wherever possible, not just in Antarctica, for environmental reasons. Bring a reusable water bottle instead. If you're lucky your cruise line may even provide you with one.
Fragile items – Avoid bringing any glass bottles or fragile objects which may get damaged if you encounter especially rough seas.
Too much stuff – Extra weight means extra cost and exertion, but worse still you may be asked to throw some away, especially if you choose a fly-cruise itinerary as luggage restrictions are scientifically strict on the small-plane charter flights to Antarctica. What's more, you may also want to leave some space for souvenirs should you succumb to temptation in the boutiques found on some ships. Remember also that if your expedition provides you with a complimentary parka, this will be yours to keep. We recommend wearing this bulky item on your way back, but if you prefer packing it you will need to leave a considerable amount of extra space. That said, if you do find you've brought too much and don't want to return home with it, don't worry. Passengers can always leave their complimentary parka (and any unwanted gear) and these are usually well received by ships and either kept as backup stock or donated.
Heavy books – Books can be deceptively heavy, especially those epic tomes written about tales of the heroic age of exploration. Leave the literary lead behind and bring that Kindle instead.
Expectations of wildlife sightings or activities – Finally, try to leave behind any misconceptions about guaranteed wildlife encounters or adventure activity participation. These icebound itineraries are at the whim of the weather, subject to change at short notice for safety reasons, and any Antarctica cruise activities are always contingent on calm conditions. Indeed, it's not unheard of to wake up one day expecting to go kayaking around an iceberg-filled bay, only to find that even a landing isn't possible.
What To Bring: The Definitive Antarctica Packing List
So without further ado, here's our list of the essential items to consider packing for Antarctica. Items marked with an asterisk are either optional, being down to personal preference or need, or dependent upon whether they will already be provided for you, you'll be obligated to rent them, or potentially not required at all, based on your choice of vessel or itinerary.
Windproof & waterproof jacket* (Outer layer) – Some high-end operators provide the parka, otherwise you'll have to bring your own. Those made from Goretex material or equivalent are usually a good choice.
Windproof & waterproof trousers* (Outer layer) – Make sure the trousers have zippers or are elasticated so that you can easily get the ankle opening over the top of a pair of boots, and that they'll fit comfortably on top of your thermals. On rare occasions these will be provided for you to borrow. Together with your parka, these are mandatory for Zodiac rides as you will get wet!
Showerproof softshell lined jacket – Beneficial for the morning prior to embarkation, and will also prove useful for layering beneath your parka or even on its own if you are outdoors on deck for shorter periods. Alternatively you might consider a lightweight waterproof shell jacket.
Knee-high waterproof boots* – Wellingtons or muck boots with high-traction soles are essential for landings, stepping into surf or walking through guano. Note most operators provide these..
Warm waterproof gloves and glove liners – liners are handy when removing thick gloves for photography and clicking any buttons, great for extra warmth too. Like all of your outer layer, make sure your gloves are waterproof. It can even be worth taking a second pair of gloves to allow for drying time if they do get wet.
A lined, wooly 'beanie' hat – Polypropylene or wool is best. Make sure it is long enough to be pulled down to cover your ears and protect them from the bracing winds.
Balaclava/neck gaiter – Balaclava is most effective as it protects even more of your face from the elements. Neck gaiters/buffs are still good though, and definitely better than a scarf which may unravel.
Sun hat – A foldable wide-brimmed sun hat is useful on hikes when it's a bit too hot for your wooly beanie hat.
100% UV-filtering sunglasses and/or ski goggles* – Polarized if possible, to combat the reflections and glare from ice and water. Ski goggles are preferred by some, especially for Zodiac cruising on snowy or windy days, but fogging can be a problem. These special sunglasses protect the sides of your eyes, and more of your face is protected from the biting wind and UV rays. Some recommend bringing an extra pair of sunglasses just in case the first gets broken or lost.
Thick wool socks with an equal number of thin socks or sock liners – To give your feet a double layer of warmth, wear silk or polypropylene socks or sock liners beneath your thick wool ones.
Felt insoles for boots – For extra comfort and great insulation. It's a good idea to even take two sets and dry on alternate days.
Heat packs – Heat packs like HotHands hand and toe warmers are great to toss into the toes of your boots before going outside and keeping in your pockets to warm your hands.
Warm shirts and sweaters (Mid-layer) – Wool, flannel or polar fleece tops to provide essential insulation.
Warm, casual trousers (Mid-layer) – To fit over your base layer and under your waterproof pants. Should be a little baggy and comfortable, nothing too tight as getting in and out of Zodiacs requires flexibility.
Full set of long thermal underwear (Base layer) – For extra warmth without bulk. Wool or synthetic tops & bottoms are best.
Undergarments – It's amazing how often people forget to pack the essential panties, bras, boxers or briefs! Whilst silk underwear can have connotations of sexiness, it is natural, thin and lightweight and delivers excellent insulation for minimal bulk.
Comfortable casual clothes – Whatever can squeeze into your baggage allowance for on-board life (lighter shirts, pants, or jeans, etc.).
Bathing suit* – If your ship has a spa, sauna, steam room, or hot tub, or if you are planning to do the polar plunge (for ladies a one-piece is recommended for this to prevent over exposure!), or might be headed to the thermal waters at Deception Island (you may also wish to bring some water shoes or old tennis shoes for this).
Yoga and workout attire, including trainers* — If your ship has a fitness center or for your daily routine.
Comfortable, flat closed-toe shoes with a good grip — A must for slippery outdoor decks aboard your ship. We suggest a pair of hiking trainers/sneakers – not full hiking boots, but warm and comfortable for standing outside for hours watching the spectacular scenery.
Lightweight, waterproof rucksack/day pack/drybag (20-25L) – Ideal for splashy zodiac rides and will allow you to take off and store layers if you start overheating while walking around during landings. Can also be used for your carry-on luggage. If your rucksack isn't so waterproof, bring an extra drybag/waterproof stuff sack to put inside it to keep your electronics and spare layers dry.
Collapsible/telescopic trekking pole(s)* – Recommended for those who may be unsteady on their feet, but optional. Ideal as they don't take up much space in your luggage and are light. Even having just one pole can be really useful as a third point of balance on the ice. Best if they have a snow basket on the end, to avoid sinking into the snow.
Flashlight* – Useful inside dark historic huts if you are likely to be visiting one on your chosen itinerary
Binoculars* – Those keen on wildlife might appreciate packing a decent pair of binoculars. These are particularly useful when watching some of the huge passing seabirds such as albatross and petrels. Note may be provided on certain ships for use while aboard. For a great guide on binoculars and recommendations see audubon.org.
DSLR Camera* with rain sleeve, telephoto lens,  lens cloth, UV filter, spare batteries and chargers, and double the digital-photo storage capacity you think you'll need – Some photographers even recommend bringing an extra camera to save time and discomfort changing lenses in the frigid conditions. You may wish to bring a polarizing filter too if you are planning to take a lot of seascape shots as these tend to cut through glare in the water, however they aren't commonly used as they tend to darken skies otherwise. Batteries drain remarkably quickly in the cold, and you'll always take more photos than you think! Don't forget that lens cloth to keep your shots clear of condensation and muck.
Mobile phone & waterproof cellphone case – Mainly for the alarm clock, but can be used in addition to or instead of a DSLR camera (if instead of, you may like to consider bringing a wide angle lens for it)
Reusable waterproof plastic bags with zipper or ziplocks – To keep other electrical equipment and items dry.
Adaptor – Plug sockets on ships vary, and may be US-style with two flat pins, or European style with two round pins. If traveling via Chile, Chilean plug sockets have two cylindrical prongs, whilst in Argentina, Argentinian plug sockets have three holes for flat prongs, with two angled holes below, and one above that serves no real purpose (so adaptors only include the two angled prongs). However, strangely some Argentinian sockets do support the two cylindrical prong plugs that the Chileans use.
Voltage converter* – Not usually required as most devices (laptop/phone chargers) these days are multi-voltage (e.g. INPUT: 100-240V means your device will work with any voltage between 100V and 240V) so you will only need a travel adapter. If your device is single voltage (e.g. some curling irons may say "INPUT: 120V") we'd recommend leaving them at home. But if you really must bring a single voltage device and you are on a vessel or in a country where the voltage is 220V like Argentina or Chile, you will need a voltage converter too.
Power bar* – Some ships have ample sockets, but not all ships are created equal, so if you'll need a lot of plugs, for say charging camera batteries at once, bring a power bar. This may also depend on your choice of adaptor, as some adapters come with multiple sockets.
Small medical kit – Despite there being basic medical facilities on board ships, a small kit of your own can be useful in case of minor emergencies.
Imodium, indigestion & headache tablets – Always sensible for travel to foreign lands.
Seasickness remedies – Even if you aren't sailing the infamous waves of the Drake Passage, it's sensible to have your preferred remedy to hand; pills, patches, acupressure bracelets, meclizine, ginger chews, etc. on the off chance you get queasy.
Prescription medication* – Any passengers taking prescription medication must bring their own supplies, as onboard medical supplies are limited and the availability of your prescription cannot be guaranteed. Always bring more than you need in case your trip gets inadvertently extended.
Extra pair of prescription glasses or contact lenses* – You wouldn't want to be without your sight if one pair get broken or misplaced.
Washbag with eco-friendly toiletries – Many ships provide essential toiletries ranging from basic to spa-worthy, but you'll have your own preferences and will always need your toothbrush and toothpaste!
Oxybenzone-free, high factor sunscreen or sunblock and lip balm with SPF – As any skiers know all too well, you might be cold, but you can definitely still get sunburned. This is especially true in Antarctica given its infamous annual 'Antarctic ozone hole', a thinning of the protective ozone layer in the stratosphere above Antarctica that begins every September and can continue into December.
Moisturizer/salve – Antarctica is a desert, which means the air is incredibly dry. By the end of the trip, your face and skin elsewhere will get dry, and your lips and hands may well have cracked, so you'll be glad of having some heavy-duty salve to hand (literally!)
Hand sanitizer – Essential in the modern age to keep any harmful germs at bay.
Earplugs and eyemask – For sleeping on ships. The earplugs are a great insurance policy for some peaceful sleep, especially for solo travelers who are sharing a cabin with someone who potentially might snore, or those partners who know their other half definitely do! The eyemask will be needed to get some sleep given the near 24 hours of daylight in the austral summer.
Travel-style thermos mug with a lid – Helps with getting hot drinks back to your seat when the ship is moving but can also be used as a refillable water bottle. All ships also provide drinking water and there is likely to be at least one bottle refilling station in a public area, where you can top up at any time.
Passport – You may not need it for Antarctica itself, but you will need it for international flights to your ports of embarkation.
Hard copies of all travel & insurance documents – We recommend bringing printed copies of all essential documents where possible. If you are relying on your phone, only to discover the battery has drained, or you don't have a signal or Wi-Fi when you need it, this might add unnecessary stress to your journey.
Small amount of local currency – Handy for tips pre- and post-cruise in Chile or Argentina.
Kindle – Packed with iconic polar reads to enrich your voyage.
Journal and pen – For penning your polar adventure for posterity!
Please note the suggested packing list above is comprehensive for the majority of expedition cruises to Antarctica. However, if you are traveling to the Antarctic interior for a land-based experience, there may be additional equipment requirements—from rated snow boots and properly insulated trousers/pants, to a -40°C sleeping bag, balaclava, goggles and more—for the lower temperatures associated with overland conditions and overnight camping. On these more intrepid itineraries you'll be provided with a specific trip equipment list to adhere to and will likely need to pass a gear check before joining.
Additional Antarctica Packing Tips
To help squeeze more items into your luggage, we recommend popping clothes into vacuum pack style bags and squeezing the air out of them so that they take up much less of that all important space. Talking of which, if you're one to keep a keepsake or two of your travels then another tip is to make sure you don't entirely stuff your suitcase and leave a little space for some souvenirs of your expedition (bought on your ship, not taken from Antarctica itself, we hasten to add!).
In terms of what order to put things into your bags, this is very much up to you, but we'd advise keeping any sea sickness medication in easy to access pockets rather than buried deep into your belongings, reason being most anti-seasickness medications are significantly more effective if taken prior to the onset of nausea, and (assuming you're not on a fly-cruise itinerary) you'll be crossing the Drake relatively soon after embarkation.
We're often asked what to pack in hand luggage. For the overly cautious amongst you, you may wish to pack some clothes in your hand luggage in case your checked luggage gets lost, so that you'll still be able to enjoy your expedition–items such as a waterproof jacket & fleece (if your ship isn't providing them), waterproof trousers, gloves and liners, hat, a couple of pairs of socks, underwear and a set of base thermals. It's also always a good idea to carry your photography equipment (and binoculars if desired) in there too.
What Else to Bring
We've covered the physical things you need to bring with you on your Antarctic cruise, but it would be remiss not to mention some intangibles to take with you in order to make the most of your expedition. Notably, a trip to Antarctica requires patience and flexibility, as even when everything is going according to plan (or the intentional lack of one) it is the weather, ice and unpredictable seas here that set your schedule, not calendars or clocks.
You may have to wait to witness its wonderful wildlife or postpone your scheduled polar pursuits for hours, or even days. Being prepared for—and embracing—the unexpected will go a long way to ensuring enjoyment on this magical and epic voyage. Between this and knowing what to pack for Antarctica, you'll be suitably primed for whatever awaits you on your South Pole adventure!
You May Also Be Interested In
Disclaimer
Our travel guides are for informational purposes only. While we aim to provide accurate and up-to-date information, Antarctica Cruises makes no representations as to the accuracy or completeness of any information in our guides or found by following any link on this site.
Antarctica Cruises cannot and will not accept responsibility for any omissions or inaccuracies, or for any consequences arising therefrom, including any losses, injuries, or damages resulting from the display or use of this information.