Optional Adventure Activities On Antarctica Cruises
July 28th, 2023
•
15 min read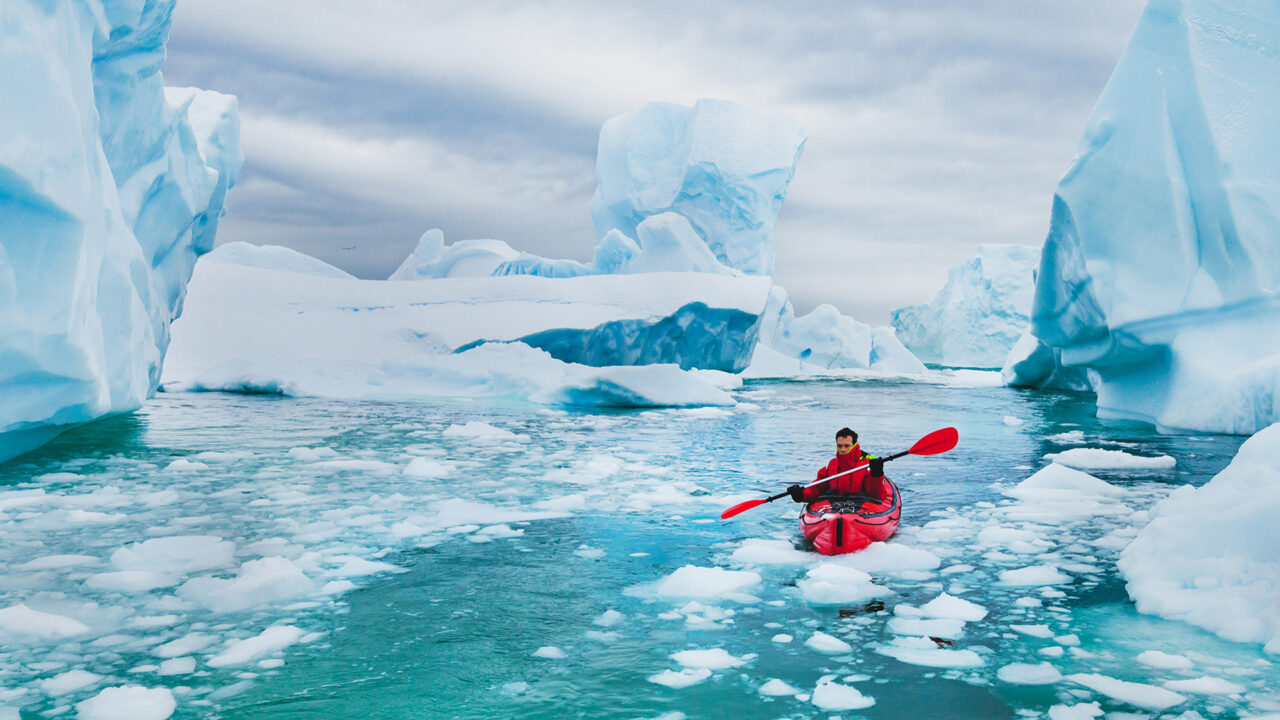 Simply stepping foot on the 'Seventh Continent', Antarctica, and indeed the epic odyssey getting to this fabled icy realm is often ample enough adventure for most visitors. But for those intrepid few who wish to augment their Antarctica cruise experience and take their adventure to the next level, there are a whole host of outstanding add-on adventure activities to consider—outside of the (extra-)ordinary polar pursuits already included on all expeditions—both on land and water and even in the air!
On your expedition cruise to Antarctica, we encourage you to make the most of every opportunity to nurture your inner adventurer. In our experience, signing up to one or more adventure activity options can substantially enhance your overall trip, enriching your experience—and understanding—of life at the bottom of the world. Plus, it ​couldn't be easier as ​most​ ​options ​require no prior experience and include all the necessary kits.
What Adventure Activities Are Already Included?
As the legendary Scott himself remarked before setting out for the South Pole: "We are all adventurers here." This still rings true today, with everyone who embarks on a contemporary expedition guaranteed to get a healthy dose of adventure thanks to the following archetypal, adventurous activities that form the quintessential experience on any Antarctica cruise:
Wildlife-Watching
Many come to Antarctica for one thing, and one thing only—the wildlife. The continent and its surrounding sub-Antarctic islands comprise one of the most extraordinary biodiversity hotspots on earth, its protected waters and shores veritably teeming with sea life, with prolific and profound off-ship encounters with waddling penguins, lolling seals, or surfacing cetaceans are all par for the course in this pristine polar domain.
Even whilst on ship you can still join the expedition's expert naturalists and fellow birdwatching enthusiasts at the stern to watch for majestic albatrosses and petrels soaring in the ship's wake as they make their long journey across the Southern Ocean, or venture to the bow where it's not uncommon to witness frolicking dolphins. Some ships provide binoculars for your use on board.
Zodiac Cruising & Shore Program
So much more than a means of transport, Zodiacs—sturdy, inflatable rubber speed boats with separate air compartments that retain buoyancy even if damaged—offer one of the most thrilling activities in Antarctica, their floating forays through the icy waters the ultimate indulgence, bestowing passengers the freedom to explore its shallow coastlines, secluded bays, and search for wildlife in seemingly inaccessible places, putting you front and center of the action. Nothing quite prepares you for being out on water when the engines are cut, listening to raw sounds of nature, the crackling of ice, thundering of glaciers, and cawing of prying penguins.
Not only are they an attraction in itself, they are the workhorses of expeditions, the toiling ten-passenger ferries by which all shore programs are facilitated. Specially designed for the environment they operate in, their thick, flat bottoms permit direct landings onto rocky, ice-strewn shores, and their near-unflippable design provides the surest stability even in significant wave action. It won't save you from getting wet though, so waterproof attire is mandatory!
Safely set down ashore, you'll participate in a packed program of activities led by experts, with an emphasis on guided walks and respectful wildlife viewing. You might visit a raucous penguin rookery, or explore the fascinating remnants of bygone eras, like abandoned whaling villages, historic explorers' huts, and other compelling archaeological sites. Zodiac cruises (and transportation) are always included in your trip fare, offered to all passengers on all voyages.
Polar Plunge
Although you cannot swim in Antarctica, that doesn't mean you shouldn't pack your swimsuit. All vessels are scheduled to stop once per voyage for a Polar Plunge, where—with physician on hand and Zodiacs encircling for your safety—brave, willing passengers don their bathers and take their turn jumping or cannon-balling into the icy Antarctic waters for the most breathtaking of baptisms.
A time-worn tradition, which may take place onshore or, in many cases, from the gangway, or even a Zodiac, the Polar Plunge is very much a rite of passage into an exclusive club, and no wonder given the sea here doesn't freeze until -1.8° C (28.7° F) and sunshine is not guaranteed!
The Polar Plunge is an optional activity free to anyone brave enough—although your body may have a price to pay! Please note that those with high blood pressure or heart conditions should avoid this activity.
Why Should I Consider More?
The reasons for considering the subsequent additional adventure options are plentiful, but often boil down to your personal motives, from curiosity or kudos, for pleasure or to push yourself to your limits, or maybe it's more for the bragging rights; precious few people can say they've been to Antarctica, but even fewer can tell tales of camping out overnight on the ice, spin a yarn of snowshoeing with penguins, or recount the time a baleen whale breached right beside their kayak. Perhaps it's all of the above.
But whatever your rationale, there are many benefits too, not least the opportunity to gain new perspectives, appreciation, and knowledge exploring this remarkable continent from other viewpoints, but also the chance to do so more intimately as part of a small group. Some even afford you some 'you time' alone with Antarctica, away from your fellow passengers, to soak in its unadulterated silence and unique icescapes, a chance to viscerally connect with it at the most profound level.
Some Important Notes On Adventure Activities In Antarctica
Here are some important things to know about the optional adventure activities offered on Antarctica cruises:
Not all ships, itineraries, or departures offer these activities
There is an additional fee for some activities, while others may be included free of charge
Adventure activities are always optional, and cruise passengers are not under any obligation to partake of them
There is no age limit to any of these activities
Most are accessible to anyone who is physically fit and active, but a moderate level of fitness will allow you to enjoy these activities to the full
In most cases past experience is helpful, but not necessary, although some activities do require prior experience in order to participate
You aren't limited to just one activity, although some may run concurrently
There may be limited space for some of the more popular activities like kayaking, so it's always wise to check availability at the time you book your trip
The maximum group size for each activity depends on the activity and ship you choose. Typically kayaking is limited to only 10–14 people, while camping, snowshoeing and hiking groups may be double that
Many activities require pre-booking prior to departure and cannot be chosen once you are already on board
Any essential equipment is usually provided (if not a packing list specific to your chosen activity will be provided to you pre-departure), but supplies and sizes may be limited
All activity guides hold high-level qualifications from national and internationally recognised organizations
Land-Based Adventure Options
Polar Camping
Hunker down under canvas as the protagonists of the Heroic Age of Antarctic Exploration once did for the preeminent camping experience of your life, pitting yourself—and pitching your tent—against the elements of one most extreme environments on earth. Roll out your sleeping bag and mat and fall asleep in the Antarctic twilight, under the stars of the Southern Sky, the sound of water lapping on the shore and distant rumble of glaciers penetrating your dream-filled slumber, before a magical awakening to the brisk breaking of a new day in Antarctica before your very eyes.
Camping groups are typically taken ashore after dinner and return back on board before breakfast the following day. Your ship will have all the camping gear and specialist equipment required to make your overnight stay on the ice as warm and comfortable as possible. All you need to bring is an adventurous attitude and a willingness to try something spectacular and you'll be rewarded with one of the most unique expedition experiences imaginable.
Snowshoeing & Hiking
Subject to snow conditions, you may be able to snowshoe or hike a little farther than the rest of the passengers during one or more shore excursions. Mount small bluffs and remote ridges to gain exceptional views of your ship's anchorage and stunning surrounds, step back in time as you set foot at secluded historic sites, and take in the beauty of this unique polar paradise and its inhabitants. Groups are usually split to match your fitness levels, with easy, moderate, and more demanding walks in the vicinity of landing sites typically possible.
This fun activity offers a great way to explore further afield, beyond the scope of standard excursions, and exercise in one of the most unique environments on earth. Normally 2–3 hours in length, no prior experience or equipment is necessary, as rubber boots and snowshoes that fit all boot sizes are available for everyone. Snow conditions for snowshoeing are at their best earlier in the season (Nov – Dec). Many ships don't charge extra for these activities, but spaces can be limited.
Mountaineering
For thrill-seekers wishing to try something even more adventurous, ascending the lofty ice-crowned peaks of the Antarctandes, trekking over technical alpine passes, and ice climbing across its crevassed glaciers is the mountaineering experience of a lifetime. Rope up and leave the beaten track behind, and venture deep into the farthest reaches of the Antarctic Peninsula cordillera few have ever laid eyes on for some of the most mind-blowing panoramic views on the planet.
Mountaineering is available on a small selection of ships and itineraries, and customarily takes at least half a day. No prior experience is required, but physical fitness to walk for a couple of hours and proper boots are essential, with all other basic gear such as ropes, carabiners, harnesses, helmets, ice axes, and crampons provided.
Cross-Country Skiing & Ski Mountaineering
Experience Antarctica as seen by the early polar explorers, following in the tracks of Amundsen and Shackleton before you, as you strap on a pair of XC skis and start "schussing" your way across the Seventh Continent's epic landscapes of virgin snow. Wherever you may have skied before—and some experience is required—it's likely it won't come anywhere close to the experience of cross-country skiing in Antarctica! If you're ready for some serious cardio work in Antarctica, this may be the perfect activity for you. Ski-mountaineering is perhaps the most adventurous activity available, allowing experienced skiers to combine climbing and skiing in sometimes steep, glaciated, snowy terrain. By definition potentially dangerous, as with the mountaineering activity above, all ascents and descents are led by certified mountain guides who are International Federation of Mountain Guides Association (IFMGA) members for your safety and peace of mind.
Water-Based Adventure Options
Kayaking
If you're looking for more active adventure, and like the idea of experiencing Antarctica from a different perspective, why not jump into a sea kayak? Kayaking allows you to placidly paddle its wild, untamed shores away from the clamor of Zodiac motors, and grants privileged access to Antarctica's serenity and majesty from the waterline—enchanting wildlife encounters, intimate iceberg serenades, brushes with brash ice, and more—all in startling close-up.
Most expedition ships carry a fleet of single- and double-seat kayaks and offer passengers the chance to go out on small group kayaking excursions led by a qualified kayak guide (and accompanied by a Zodiac for your safety) as often as conditions allow. Kayakers are required to be able to get themselves in and out of their kayak to participate, and wetsuits and life vests will be provided.
Stand-Up Paddleboarding (SUP)
For a truly memorable adventure experience, why not put your balance to the test on one of the newest additions to the polar program, and paddleboard your way through the tranquil bays, protected waters of the Antarctic Peninsula. Surrounded by dramatic scenery on all sides, this is an epic location for stand-up paddleboarding and takes this growing sport to a whole new level.
Some prior experience is recommended so that you'll be comfortable on a board and can enjoy the experience to the full, but otherwise everything else is provided, including a dry suit—just in case you don't quite manage the standing up part and fall in! This fun activity is currently only available on two Antarctic ships and should be pre-booked to avoid disappointment.
Scuba Diving & Snorkeling
Some of Antarctica's most captivating wildlife spectacles and icescapes lie secretly hidden beneath the waterline, amidst one of the world's most pristine marine ecosystems. On a small number of ships and on select departures, advanced scuba divers can discover these submerged wonders so long as they have extensive cold-water (below 5 degrees) and dry-suit experience. Scuba tanks, compressors, weights, and other essentials are provided, but divers should bring their own optional gear.
If you don't have the requisite diver certification, experience, or can't even dive, don't despair. On select voyages non-divers can also experience Antarctica's unique underwater world polar snorkeling. Discover for yourself the amazing mobility and speed penguins have when entering (and exiting) the water, watch icebergs descend into the deep, and don't be surprised if you get a visit from an inquisitive crabeater seal, or witness a humpback whale appearing from the deep!
Submersible Rides
Incredibly on some of the latest (larger) expedition ships, undersea explorations in panoramic submarines are even possible, allowing you to delve deep into polar waters in six-seater yellow pods, replete with 270-degree spherical windows. These seats rotate to provide passengers with uninterrupted, all-encompassing views, as your pilot takes you on a tour of an entirely different world while you learn about the unique marine species of Antarctica and life under the waves.
Air-Based Adventure Options
Helicopter Flights
The only way to appreciate the inconceivable scale and grandeur of this great white wilderness—to truly put things in perspective—is to experience Antarctica from above on an aerial adventure by helicopter. The freedom of flight with fill you with unbridled emotion as you gain a breathtaking bird's-eye view of the White Continent; an indescribably exhilarating, near-cinematographic experience swooping over monumental glaciers or the vast icepack of the Weddel or Ross seas, and sometimes even allowing you to set foot in landscapes and remote wildlife habitats often inaccessible by other means.
Helicopter facilities onboard expedition ships are not common. If your chosen vessel does have a helipad, on specific voyages, and with conditions permitting, you may be lucky enough to have the incredible—albeit expensive—opportunity of experiencing a heart-stirring half-hour flight over Antarctica in the company of 3 to 5 other fledgling fliers (depending on the number of seats in the helicopter).
Other Optional Activities
Photo Workshops
Whilst it may not be as adventurous as other options, and doesn't really fit in the land-, water- or air-based categories due to its more hybrid nature, we thought we'd include participating in a photography workshop to be thorough, as it can be equally as rewarding, if not thrilling, and similarly requires advanced booking due to its popularity.
Some voyages offer photo workshops for multiple experience levels led by an onboard photographer. Participants learn about objects, exposures, composition, and basic photography rules both on the ship and off it, and whether you use a DSLR or just an iPhone, a photography guide will be on hand ready with helpful hints on how to get the most out of your camera and capture that perfect polar shot.
Yoga Classes
You might think yoga isn't that adventurous, but then again you probably haven't done yoga on a ship, especially whilst at sea! Just joking—your yogi will be well-versed in vessel-related movements and will ensure you stay low to the floor to ensure your safety. For many explorers a trip to Antarctica is an overwhelming sensory experience, and yoga really helps you to take it all in, take a beat and truly appreciate what you're seeing, hearing, smelling and feeling.
What's more, starting your day with a yoga class on board (classes aren't held on shore) looking out over the Antarctic Peninsula can be incredibly relaxing and rewarding, and doing some deep stretches is a great way to limber up for the more adventurous activities you'll be participating in later in the day. Yoga is available on select ships and can be signed up for onboard, so you don't need to worry about booking it in advance.
Other Workshops
Some select departures may have other less common workshops, including Acoustic Workshops listening out for the sounds of whales and seals on voyages, Astronomy & Astrophotography Workshops exploring the wonders of the polar skies, allowing guests to practice navigating with a sextant and learn the basics of astrophotography, or Navigational Workshops teaching the history, theory, and practice of land and sea navigation and covering topics on the use of sextants, chart positioning, and GPS functions. Such workshops are usually open and free to all participants but reservations may be required.
Add-On Activity Costs
These optional activities normally carry an additional cost, although some itineraries—especially Basecamp—and certain ships do already include some complimentary activities within the cost of your cruise. For those that aren't, you can expect to pay anywhere between an extra USD$150 – $2,200 per person, depending on your chosen activity. Camping is usually the least expensive activity as it only happens once per voyage. Most other activities you'll do more than once during your expedition, for example kayaking is offered most days, conditions permitting, and so tend to cost considerably more.
Have you seen an Antarctica activity option or two that piques your interest? If so, get in touch with our specialists today so that they can guide you toward the relevant ships, itineraries and departures that offer them, advise you of their costs, and start building the activities into your planned polar experience to maximize the adventure that awaits you on the White Continent.
You May Also Be Interested In
Disclaimer
Our travel guides are for informational purposes only. While we aim to provide accurate and up-to-date information, Antarctica Cruises makes no representations as to the accuracy or completeness of any information in our guides or found by following any link on this site.
Antarctica Cruises cannot and will not accept responsibility for any omissions or inaccuracies, or for any consequences arising therefrom, including any losses, injuries, or damages resulting from the display or use of this information.